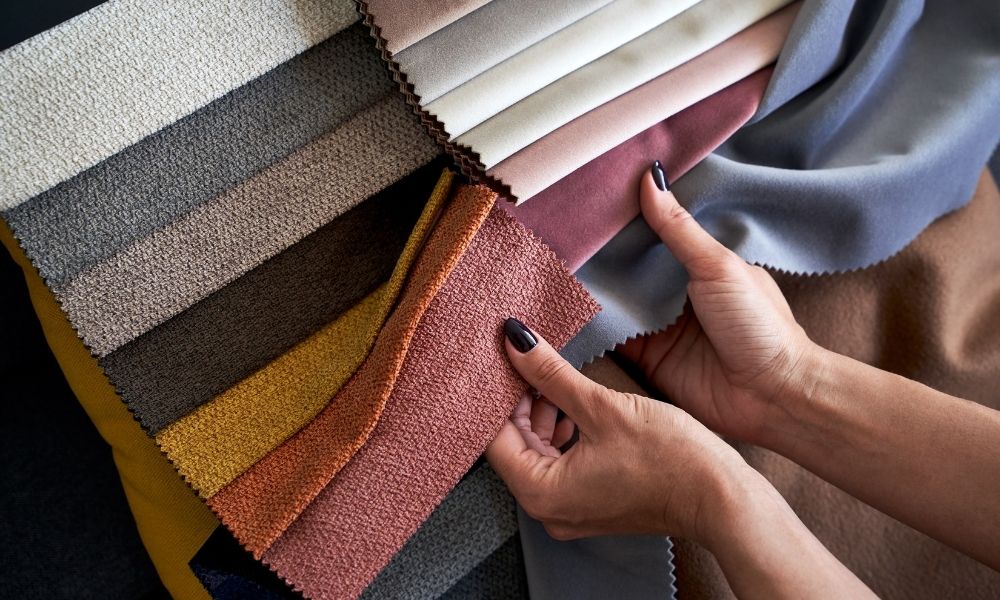 How to choose an upholstery fabric buyer's guide and useful tips
Upholstery fabric determines the appearance of our furniture – sofas, chairs, armchairs, couches, headboards, etc. Choosing the best upholstery is not an easy task, because stores offer hundreds of types of fabric for every taste, in almost any color and pattern. The same fabric will look different on a chair, sofa or headboard, and depending on the lighting conditions, one color may appear grey, purple or brown when in fact it is a deep shade of green.
When choosing upholstery fabric for your furniture, you have many colors, and textures to choose from, and before making a final decision, you need to know the most important features of different types of upholstery. The durability of materials depends on many factors – the nature of the fibers – natural or synthetic – surface treatment, weave, etc. Medium and heavy-duty fabrics have the most durability and your upholstered furniture will retain its appearance for a long time. Living room design ideas black sofa fabric upholstery View in gallery
It is important to choose the right supplier or manufacturer of upholstery. The best place to buy upholstery would be specialist stores. Check the manufacturer of the fabric you like and if the name (brand) is not marked on the fabric itself, ask the seller.
Choose upholstery depending on the overall concept of the design of your room. Keep in mind that the choice of fabric will also depend on the type of room. For example, if you are looking for suitable, functional, and durable upholstery for breakfast nook benches that is easy to clean and maintain, the flock is a good choice. When looking for upholstery for your living room, you can opt for materials with different textures and properties. You need to measure carefully to find out how much fabric you will need, but remember that you need some allowance.
VELVET UPHOLSTERY FABRIC
Velvet sofas and armchairs can add a touch of extravagance and luxury to your home. Contrary to popular belief, velvet furniture can last for several years if properly cared for and maintained.
It is a densely tufted pile of fabric and has two main types: traditional and synthetic. While traditional velvet is made from silk and is generally more expensive, synthetic is made primarily from synthetic fibers such as viscose, polyester, and rayon. Synthetic velvet is relatively less expensive and more durable than its traditional or natural counterpart.
Pros: Velvet upholstery can last for decades if treated with care and love. You don't have to worry about the color changing because the color of your velvet upholstered furniture will not fade over time. This material is aesthetically pleasing and soft to the touch. This common upholstery fabric is available in a variety of colors. Food stains and mud can be easily removed from velvet furniture
Cons: Velvet is prone to attracting dust particles and needs to be cleaned regularly. The same goes for pet fur. Not suitable for outdoor use as velvet does not thrive in direct sunlight. Velvet upholstered furniture can absorb spilled liquids quite quickly
SILK upholstery Fabric
Silk is another natural fiber that is known for its elegant appearance, luxurious appearance, and smooth texture. From curtains to upholstery, this fabric can be used in many ways in the home. Its aesthetic appearance and versatility also contribute to its high demand. If you want your home to look classic and timeless, silk upholstered furniture is the right choice for you. Although this material is a bit expensive, it holds its shape well and will last for years.
Pros: As one of the strongest natural fabrics, silk does not tear or tear easily. Silk sofas and armchairs offer an almost regal look, making them a great addition to any home. You will find a wide range of shades, patterns, and qualities of silk on the market. This material does not stretch over time and can maintain its shape
Cons: Silk, as mentioned above, can be quite expensive. The natural fibers in silk upholstery wear out very quickly if exposed to sunlight for long periods. Liquid spills can cause unsightly stains that will disappear with dry cleaning
About Author